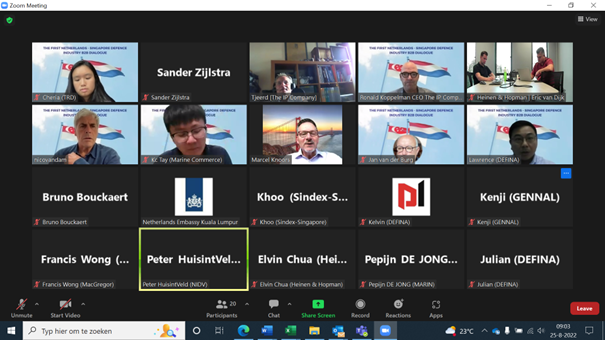 On August 25th, companies from the Netherlands and Singapore took part in a B2B Webinar. Organised by the Dutch embassy, the aim of the webinar was to strengthen international ties between Singapore and the Netherlands and allow the participating companies to present their capabilities.
The webinar was also attended by representatives from the NIDV, DEFINA, and the Dutch Ministry of Economic Affairs and Climate Policy and the Netherlands Enterprise Agency (RVO). After an introduction from Mrs. Fazilah Majeed, representatives from DEFINA and the NIDV highlighted the potential in both nations' Defence and Security markets.
Afterwards, the industry representatives were given the chance to present their companies and answer questions. Companies from both sides soon began exploring potential opportunities for cooperation and some even made plans to meet during Indodefence or Imdex to work things out further. The presentations also highlighted that some companies from Singapore and the Netherlands were already working together, as the representative for TDR mentioned they were in a partnership with the Dutch company Robin Radar.
All in all, it was a great webinar with a lot of promise for future international cooperation and we look forward to seeing how things develop.